One Summer, by Jenny Hale
Publication: Bookouture; June 1, 2018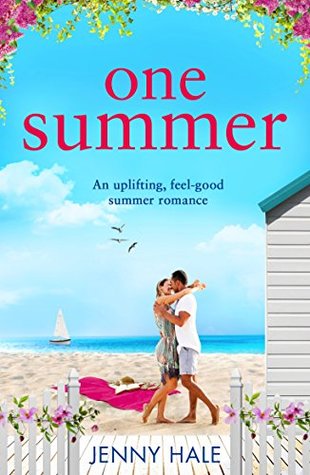 About the book:
This summer will change everything…
Alice Emerson is in need of a new beginning. Broken-hearted after her beloved grandfather passes away and her relationship falls apart, she makes a pact with her best friend Sasha. Swapping city living for the beautiful sun-bleached beaches of the Outer Banks, they launch an ice cream shop together in the crumbling house by the sea where Alice spent blissful childhood holidays.
As Alice and Sasha settle into the close-knit community, making friends with the locals and tempting them with their delicious recipes, Alice finds herself falling for the warm charm and golden smile of mysterious doctor Jack Barnes. Spending time together during sunshine-filled days and long romantic evenings, Alice starts to wonder if he could be the one for her?
But just when Alice's summer couldn't be more perfect, she discovers an old letter tucked away in the beach house. It contains a family secret that turns Alice's world upside down and makes her question everything she's ever known. And then Jack complicates their summer romance with an unexpected offer…
Faced with a difficult decision, will Alice and Jack follow their hearts and find true happiness this summer?
One Summer is an utterly stunning, uplifting summer romance, about the power of friendship, discovering family secrets, and the beauty of falling in love by the sea.
My Review:
Today I have been  stuck inside while endless sheets of rain are falling. I mean, it is non-stop and miserable. So, I thought a light-hearted, beachy romance would be the perfect escape! Reading Jenny Hale's upcoming novel, One Summer, just seemed perfect with its flirty, romantic, beach scene on the cover!
One Summer is about a dental receptionist named Alice, her young son Henry, and her best friend Sasha. Alice experiences a bad break-up with her boyfriend, Sasha is going through a divorce, and Alice has inherited her grandpa's bike shop right on the beach in the Outer Banks. Initially planning to sell it, Alice's wonderfully memories of her childhood their with Gramps, prompts her to move to the beach with Henry and Sasha to open a new ice cream shop. Once there, she meets a handsome doctor named Jack, in the area temporarily for a research study at the hospital and their neighbor, Melly, who instantly clicks with both Alice and Sasha.
Here is what I loved about this novel… First of all, the overall theme regarding Alice and her memories with Gramps while she was growing up. My fondest memories of my childhood contain my grandparents and the fun adventures we would have when I was visiting them. I liked Alice's father, Frank, as well as, Jack's father, Butch. Both of them just seemed to have this quiet kindness and wisdom. And of course, I loved the setting being that I am a huge fan of any and all things dealing with the Outer Banks.
The problem that I had with One Summer, was that it was a cumbersome read for me. Several parts went into too much detail and quite frequently, I was left wondering why the details were even significant or how they made sense at all. Then there were other parts where I just felt like I was following along with a story and suddenly someone yells, "cut to!" Frank, whom lives in Richmond, tells Alice on the phone that he found Henry's hat behind the bookshelves that he had been clearing out due to boredom. But in the next sentence he is suggesting that he "stop by" because he's in Tidewater visiting a friend.  Considering that it's a 4 1/2 hour drive from Tidewater to the Outer Banks (assuming no traffic), I don't understand how he just popped in. When the puppy disappears, why is there 1-2 pages about Alice putting her hair into a ponytail and getting dressed in nicer clothes than normal to go chase the pup? Has your dog ever escaped? Unless you were naked, did you stop to get all prettied up before running after him?
Despite my criticism, I can predict that if you are a fan of Jenny Hale and especially a sweet, happy beach-read, then you will enjoy One Summer. I enjoyed the overall premise of the story, but the pace was a little slow for me personally.
*Thanks to NetGalley for providing this ARC in exchange for my honest review.
Learn more about author Jenny Hale.