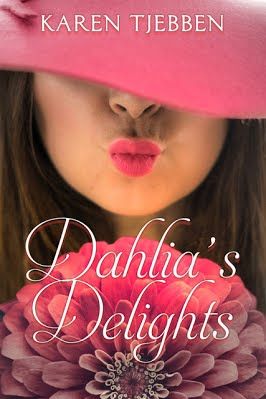 The Flowers of Avenel book 2 – DAHLIA'S DELIGHTS
Date Published:
June 8, 2019
Dahlia Collins had sworn that she'd escape the sandy beaches of her little hometown of Avenel on The Hidden Banks Islands. She'd dreamt big for herself, craving the adventure and success that could only be found in a big city. But life in the big city turned tumultuous, and the overwhelming swells of betrayal and financial struggle carried her back home to Avenel. Taking over Dahlia's Delights Bakery should have been easy for her, except it wasn't. Someone was sabotaging her business. She prayed that with the help of a handsome police officer, she would save her bakery.
Mark Lane was a simple man with simple needs. He had his health and a successful career as the police lieutenant on a beautiful island off the coast of North Carolina. That was all he needed or thought he needed until he walked into Dahlia's Delights. When he saw her, his brain whirled with surprise. The young teen he'd last laid eyes on a decade ago was now a grown beauty. His heart double-tapped. His blood heated and strummed through his veins faster than normal. Gone was the girl he'd teased in his youth. Instead, an auburn-haired beauty with emerald eyes robbed him of rational thought.
When Dahlia shares her concerns about the bakery with Mark, and he promises to help her, all the feelings she'd had for him rushed through her again. Her heart palpitated, desire cloaked her, and she was thirteen again. Falling in love with him would be so easy. Hell, she was already halfway there.
**My Review**
Welcome to my stop on the tour for Karen Tjebben's latest in her Flowers of Avenel series, Dahlia's Delights. Once again set in a charming coastal town, this installment focuses on Dahlia who has returned from big city life and taken ownership of her family's bakery. She loves the bakery, loves the town, and is certainly excited to see Mark walk into her shop, after crushing on him so many years ago. But when she realizes that her bakery is consistently losing money, she has no idea why. As Mark tries to help her figure out what's going on with her bakery, romance also starts to bloom!
This was a nice, romantic read also filled with a bit of mystery and suspense as Dahlia tries to figure out what's happening with her bakery. I loved both the main characters and they had fantastic chemistry together. I especially love this setting because it sounds like an absolute dream! Imagine running a cute little bakery right on the boardwalk of a tiny beach town? Perfection, right?
I definitely found this to be an enjoyable story and recommend it to fans of sweet romance with a little bit of steam and a little bit of mystery/suspense. The only reason I didn't absolutely love it was that it was written in third person rather than from Dahlia's perspective (or both her and Mark's). Writing seems to flow better to me personally when written in the first person, but that's just a little peeve of mine, nothing major. 
Dahlia's Delights blends a wonderful setting, realistic characters, and sweet romance that is a joy to read. I'm not sure if I enjoyed it as much as the first in the series, The Making of Daisy Heart, but it's a great novel and I look forward to more from Karen Tjebben about this wonderful coastal town!
*Thanks to RABT and the author for providing this ARC in exchange for my honest review.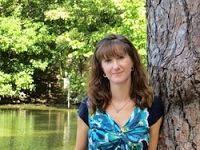 Karen Tjebben lives in central North Carolina with her wonderful husband, twin daughters, two hamsters, four guinea pigs, an axolotl, and a school of various fish. When her girls left for kindergarten, Karen discovered that she needed to fill her days with something, and that was the beginning of her writing career. She loves to create worlds filled with unique characters that will delight and raise goose bumps on her readers. In her free time, she enjoys traveling with her husband and seeing the world through her daughters' eyes.